Actually,
i love taking care of Velle.
Looking at her developments and
smiles always motivates me to do better,
be stronger for both Hubby and Velle.
I can just take the easy way out,
fly back to Singapore.
But i dont think i am going to do that,
even hubby and mummy is discussing about that,
it have never crossed my mind.
I am going to be here till 2010.
No doubt that what mummy say is true,
i do not know how to care for others,
and will always remind like a princess.
But i am willing to try, who isnt spoiled by husbands right?
Actually to those who are reading,
you can help me by
respecting that i DO have my ups & downs, i know you love to read happy stuff,
but im sorry, i am only a human.
keeping negative comments to yourself. I know it almost seems like impossible,
that i may go bonkers any second, but do not fasten the rate of me going crazy.
please also remember this is my blog. I do not have direct friend here that i can call and
cry to any time of the day i like. I cannot call hubby because he is working with machines,
which requires his full attention. So blogging is my way of releasing stress,
each time i blog, i leave a heavy burden blog, recording my growth.
So, why do you need to view it as a point that im stagnant, and being irresponsible?
Please think before you type,
it may be VERY easy to type out your thoughts in my tagboard.
But if you think very carefully, are you helping me?
What would my reaction be, what is the after effect of your words?
Who is gonna be affected? velle?
Why dont you just read on and see how things go?
Its not the end of the story yet,
you can only conclude when the story ends.
Thats when i return to SG with Velle which is a year old.
But if i continue to recieve comments that isnt filtered by thy brain,
im sorry, i will shift my blog and link no one.
In the end, you wont be able to find out the end of the story.
Dont you want to know whats the ending?
Loves
I think those that ask me to jia you is like farting.
Because YOU dunno how it feels,
YOU will never know.
So please DO NOT READ my blog if u think that i am not doing my best.
How u know im not?
ARE YOU HERE WITH ME??
If you really think caring for a infant is easy,
GOOD FOR YOU!
Go get a million babies la!
I dont need random readers that gives negative comments,
or ppl that read my blog to see me fall.
I CAN LOCKED IT!
You will not find my blog anymore,
and one less person for u to LAUGH AT!
I AM FREAKING PISS with this random JASLIN
whatsoever lady that thinks she is
sOOOOOOOOOOOOOOOOOOOOOOOOOOOOOOOOOOOOOOOOOOOOOOOOOOOO
SMART.
Talk very easy,
like farting ma,
no need pay money one.
STINKS
Velle is not cooperating because she took her jab,
and im alone at home.
Have i eaten? no
Do i have time to pump my engorge boob? no
Is food available anywhere? no
So why do you talk like u living with me,
and see i slacking over the sofa with the TV on.
YOU FREAKING NEED TO WAKE UP,
AND SEE THAT THIS IS MY BLOG
YANWEN'S BLOG
DONT EVER EVER TAG AGAIN.
PEST
Monday, April 20, 2009
Changes changes changes
10:08 AM
For the whole of last night,
other than caring for Velle,
I am not a good friend of changes,
i need a predictable routine.
I dont like it when i need to feed Velle in the middle of the night,
baby is not asleep beside me.
I dont like it when Velle cries,
nobody is taking turns to pacify her with me.
I dont like it when baby is not at home right now.
Dont ask me why i need to cry.
Because i dont even know.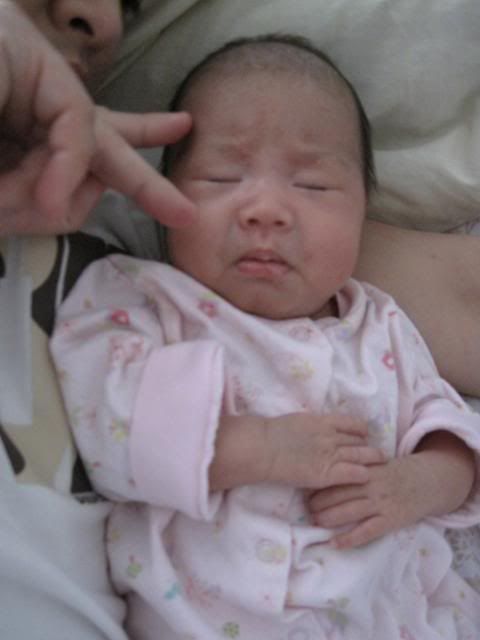 Sunday, April 19, 2009
Yesterday i was happy happy happy,
today i feel rather worried.
Yeah, i said a million times already,
babyfied is returning work tomorrow.
clearing up our own room so that we could move back there.
velle will be sleeping alone tonight.
But babyfied had to have a peaceful sleep too right?
Very zing zhang her alone in her room.
Plus tomorrow Velle got check up,
babyfied cant bring us there.
And and, i will be alone at home with velle,
if i damn pissed off i cannot leave her to anyone.
But lets hope for the better,
and focus on the good side?
I survived one month with her right?
The most i call my mummy cry. LOL!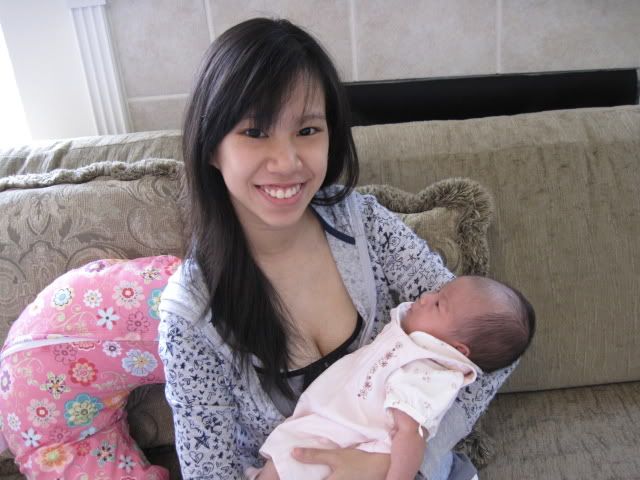 Velle is finally one month old.
Labels: Baby is returning to work