Friday. AMK HUB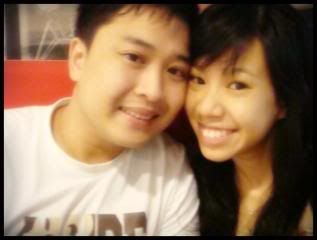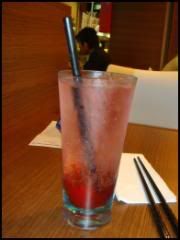 Baby pass his IPPT and went eating out.
>.<
Sickening, he lied in the first place telling me he fail his SBJ
HE CANT JUMP FAR!
LOL
SATURDAY. MOVIE
When to watch SEX IS ZERO 2.
Its damn funny even though got alot of BEEP* scenes.
In the end i tear.
a funny, love story.
WAtch is and have a good laugh!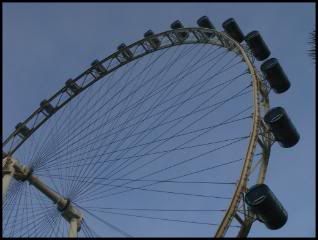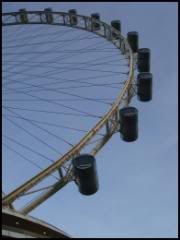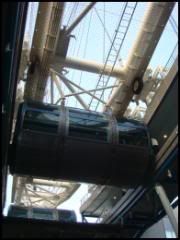 CANT WAIT TO GET ON THE FLYER!
We will go on weekdays,
as the Queue is really really long!!
SUNDAY. JAZELLE BIRTHDAY PARTY
Jazelle is so pretty!!
and cute. and round.
SIMPLY adorable.
she is so tiny to be 3!
CUTE.
SAW ASHLEY!!!
baby love ashley alot.
saying that she is pretty.
yes indeed.
VERY PRETTY(=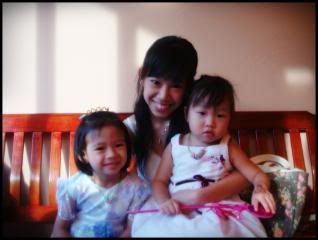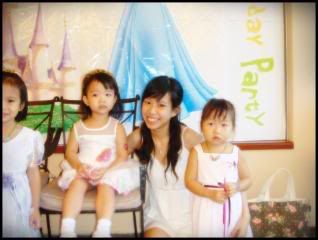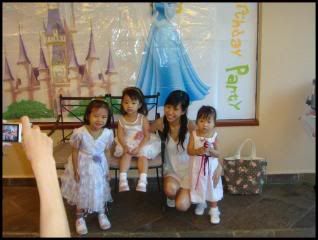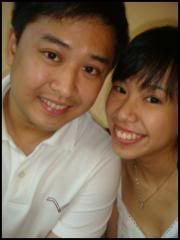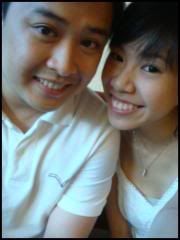 Baby feel very much out of place.
But to let him feel comfortable, i pretend to feel ok!
LOL
Thanks baby for accompanying.
I missed my babies alot.
<3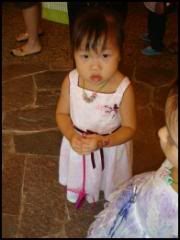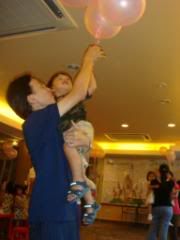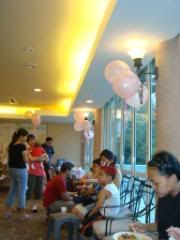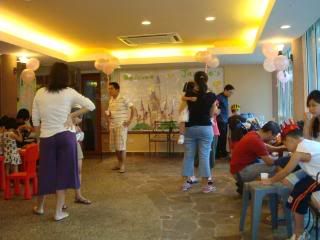 The food was REALLY good.
YUM
baby love the curry most.
not forgetting to steal the Tissue that write the caterer.
KIGI catering. YUMMY FOOD.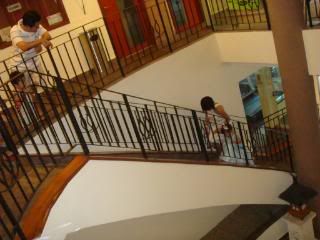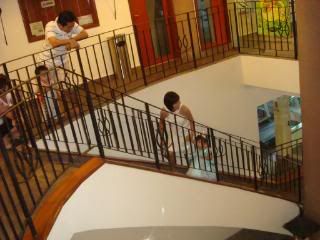 Princess Jazelle came out after changing!
Feel like wedding dinner man!
SHE IS ADORABLEEE!!
Dressed like Sleeping beauty.
HAPPY BABY! LUCAS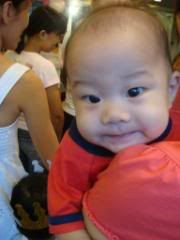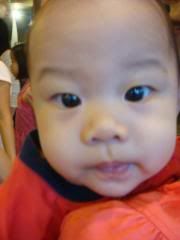 CUTE AS HIS SISTER!
smiles when you play with him.
i would die for a baby like that.
MUAHAHAHAA!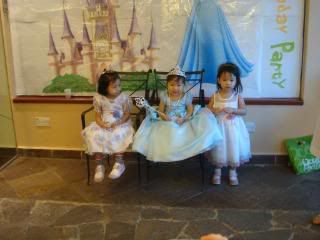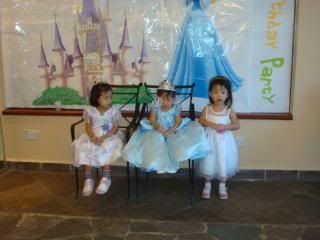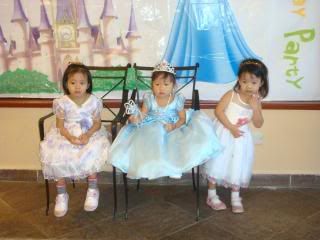 HAPPY 3RD BIRTHDAY JAZELLE.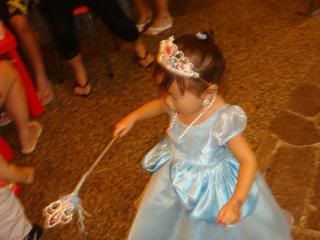 Picture took by baby.
He laugh when jazelle run away so quickly.
SO CUTE.
i love to see him love little children.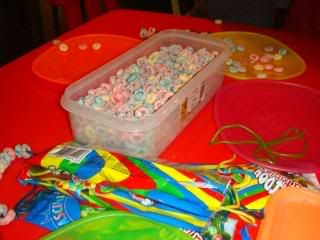 They have little station that engages the children.
so thoughtful...
Since baby likes ashley so much
take a few more of her pictures.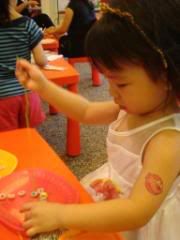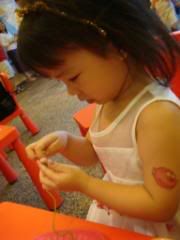 She is so shy to talk to me.
MISS CHUBBY ASHLEY! MISS HER MUCH.
Friday, April 25, 2008
Staying at home isnt as fun as i thought it would be.
Maybe i have been doing things that i dont like to do!
washing, cleaning, packing.
have to learn to be a wife...
be a wife..... be a wife....
But pass few days have been better.
digging out clothes and selling it online!
i really enjoy doing this though.
1 more month to leaving SINGAPORE!
baby will also be on leave from 12 MAY
I have decided to straighten my hair again,
curly waves doesnt really suit me
i think i look different.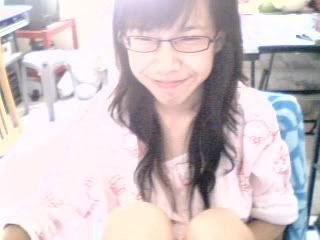 because i lend baby's uob account for transaction
due to buyer doesn have posb account.
Then i realise he doesnt use UOB at all.
with the $500 min amount inside!!
EVIL LAUGHTER***************
i shall wait for 6 months, then take out the money!
Baby have been really cute and tired.
Work has been tough for him
exhausted when he is back.
and he will squash me when sleeping.
when you are in deep sleep,
through the night i will flip him over and over again.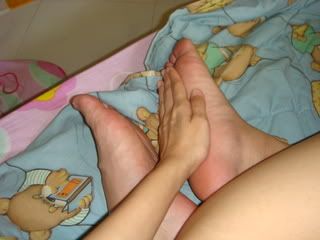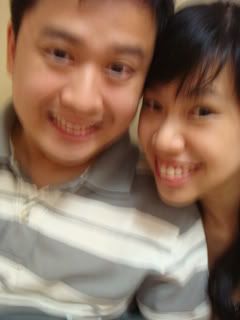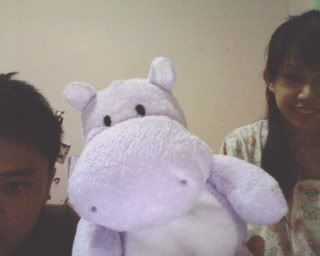 Thursday, April 10, 2008
Another Happy Day
9:47 AM
Went with ting to bedok salon.
Wanted to trim my hair, and ting wants rebond her fringe.
My hair after trimming is beyond rescue.
Decide to try out perming.
effect was better than i expected.
except i keep touching it and causing it to become straight at the end of the day.
their chicken leg was really good.
Tmr another fun day with zhen, then baby.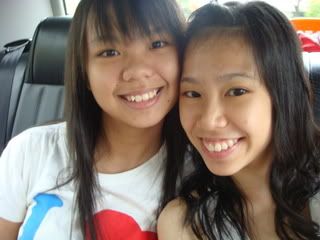 Ting look so much better when i push her fringe to the side.
thinking to get either one of these pendants.
Tuesday, April 08, 2008
Our wedding bands.
White gold is so much nicer than rose gold.
=D
Random milk carton.
woodstock top for baby.
My tote bag
furry monster that comes with an ugly bag.
(baby love this monster.)
Freaky cafe. Clinic.
Hospital bed, and wheelchair chairs?!
eek.
baby so wanted to get on this bungy.
sorry babe, i got weak heart.
Full body check up tmr at Air Base.