Friday, October 08, 2010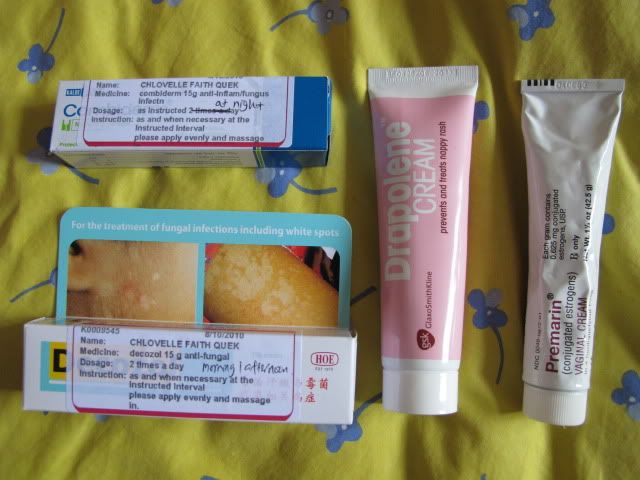 I brought Chlovelle down to the PD this morning.
Wanted the PD to take a look at her diaper rash which didnt get better.
The night before visiting the Pd,
wrote down a list of things to ask.
Hahaha, its my usual habit.
Back in USA, i will always write a long list of ??????? to ask the PD
And ofcourse i cherish their professional feedback and advice.
Anyway this is the 2nd time i return to this PD just opp my block.
1st reason i go to him is because its near my house,
2nd reason i feel he know his stuff, and abit to access situation well and calm
But one thing i notice and confirm is that, he doesnt like children to cry.
I love the nurses there, super friendly and they love children.
One of them even come out from the counter just to play with velle.
I also enjoy the short waiting time. HEEHEE! me likey!
Dr yap commented " Ni zhang da le"
Meaning velle had grew since he last saw her ( last visit was 15 months old)
I was happy that he can remember her (:
Access her diaper rash and Dr yap says its fungus growth O.o
I was so uptight then i kept asking him,
how come, izzit nv clean properly, etc etc.
Somehow hoping its my fault or what. LOL!
But he told me some babies more sensitive will get it.
I also showed him velle's scalp, there is 1 patch of "i dunno how to describe"
He told me its also fungus, but both very mild case. (LUCKY)
Precribe me 2 creams to apply for her day and night.
On top of the cream need apply drapolene.
He also comment that her private need to put cream for every diaper change,
if not it will close back.
SEE! velle always got problem with her private de. TSK.
After the checking velle,
i ask him about her growth,
her hair loss, her vitamins, and her BCG jab.
hahaha! ask until the money is worth it right.
But over all, PD says that she is fine. Small size because she has my genes.
As long as she is happy, healthy and doesnt reject food, taking 4 times milk per day.
He also says her teeth got 6 also ok. LOL!
Leaving the clinic happily even i paid $65.
Anyway velle is weighing 8.8kg now, standing at 75cm!
Last week was only 8.69kg!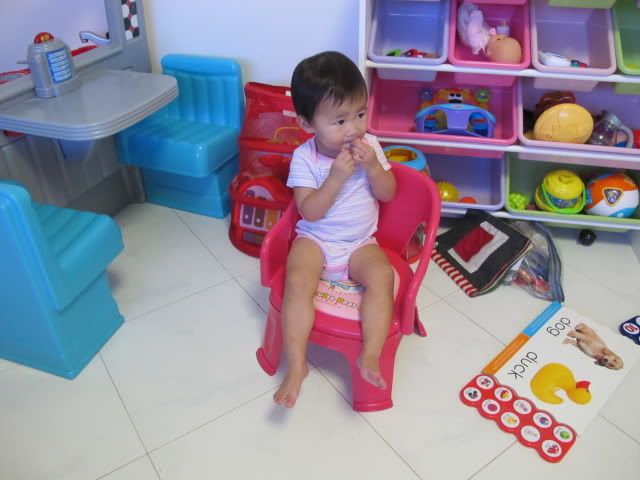 Happy princess in her chair by Mama(grandma)
Labels: 18 months old, diaper rash, Garden Clinic, Pediatrician